Sonoma County continues to be a favorite destination of smart buyers willing to pay a premium price for the wine country lifestyle.  Many are successful and financially prudent (missed the bubble) Bay Area residents looking for second homes that will turn into their primary residence when they retire. Other highly-qualified buyers are looking for an additional residence or vineyard to add to their real estate portfolio for long term appreciation.
Two areas in particular are hot spots for premier property selling for over a million dollars.  The greater Sonoma area, including Glen Ellen, accounted for over 80 sales in that price range last year. This area is especially attractive to buyers who are still working in San Francisco and appreciate the shorter commute from Sonoma.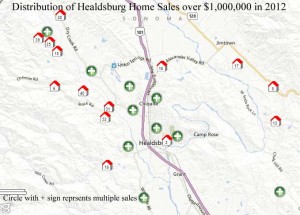 Healdsburg was also a strong contender for Sonoma County luxury property transactions with 40 homes selling for more than a million dollars.  In addition, Healdsburg outsold the Sonoma area with the largest number of  Sonoma County residential transactions over $4,000,000.  (I have linked a PDF file showing the  breakdown of million dollar residential sales in Sonoma County for 2012 by area and price.)
An important factor to keep in mind as you look at Sonoma luxury listings on the properties linked below is that in this context luxury refers to selling price, not home quality. In many of the listings, the house may be an insignificant part of the overall value of the property, particularly on the large acreage and vineyard parcels. In addition, with the older housing stock typical of Sonoma and Healdsburg, even well built homes that were considered to be outstanding in their early years may have fallen on hard times due to deferred maintenance or simply failure to upgrade.  

The most elusive property on the Sonoma County market today is a luxury contemporary home. There aren't very many of them around to begin with, let alone as active listings.  The few that have been on the market with fair pricing have been quickly scooped up by buyers represented by savvy agents. In the most dramatic example of that, a Healdsburg house listed at over $6,000,000 sold the first day it was on the market last year.
The shortage of wonderful, authentic luxury homes may soon lead to an increased demand for buildable parcels as buyers decide the best way to get a great home is to build your own. Here's an estate grade parcel in Healdsburg. Here's a 201 acre parcel that would fit five homes for an estate compound.
Healdsburg Homes over $1,000,000
 Sonoma County Million Dollar Lots and Land